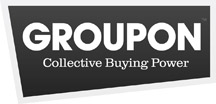 I am no longer a
Groupon
virgin. Groupon is daily deal website that is localized to major markets. Well, surprise surprise, Lusby Maryland is not considered a major market. But I still subscribed to the email list months ago just to see the deals that Washington DC and Baltimore get offered everyday. Both cities are about 50-75 miles away.
Finally yesterday the Baltimore Groupon had a deal for me. It was to our local waterpark (which is only about 20 miles away). I had already told Jacob we would go once this summer. So I purchased 2 tickets yesterday at a savings PLUS since I paid with my Discover Card, Groupon said I would get 20% of the total in my Discover cashback bonus.
============
My other deal yesterday was this book Dikes and Bikes. I had some time to kill before I had to pick up Jacob from camp so I went to the library and browsed their table of used books for sale. The Dikes & Bikes caught my eye (it's a book from 1953 published by Amstel Beer) and when I went to pay (it would have been .25) the librarian told me just to take it.